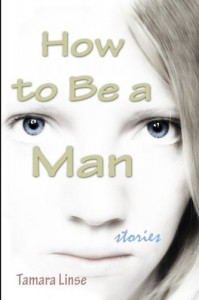 "How to Be a Man" is a collection of fourteen short stories by Tamara Linse. The titular story, "How to be a Man", is an unusual tale told in the second person. It has a satisfying ending and sets the tone for the rest of the stories, which all pertain to standing up for oneself or "being a man".
"Men are Like Plants" is an extended simile likening flowers to different types of men. "Mouse" is a touching tale of a young country girl who undergoes a rite of passage. "Oranges" is heart-breaking in its simplicity. In "Nose to the Fence", a country girl's world suddenly opens up; it is a story of hope. In "Control Erosion" it's hard to tell who's the man in this marriage; I loved the comparison of relationships to scientific laws and theories. "In the Headlights" and "The Body Animal" both use clever analogies. In "Revelations", three friends take things a bit too far; I loved the way the author wrote the ending. In "Wanting", a woman on a jury holds her ground against the other jurors in order to avenge a previous injustice; this was one of my favorites. The collection ends with a handy "Reading Group Guide" and a "Letter to the Reader" which provides some background to the stories.
This is a mixed bag of stories told from the points-of-view of children, young girls, young men, young women, and older men and women. The author is comfortable writing as all of these characters. These stories are not short stories in the traditional sense, but are snapshots of life. Some are stronger than others, but they are all moving and heart-felt, and you can tell the author has lived on and loved the land.
An impressive debut. This author is a talent to watch.
I received this book in return for an honest review.