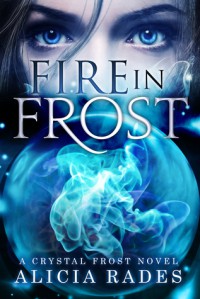 Olivia Owen died a year ago, so why can Crystal see her? When fifteen-year-old Crystal Frost walks in on her mother, Andrea, conducting a séance with her friends, Crystal finds out her mother is a psychic. Not only that, but she discovers that she's a psychic herself! So when the ghostly Olivia asks her to help out a friend, how can she refuse? As Crystal struggles to use her new-found powers, she keeps more and more from her best friend, Emma, threatening to ruin their relationship. But who can Crystal trust with her secret? And should she?
This story of a teenage girl struggling with a very big secret started off slow but kept me entertained and wondering what would happen next. There is a nice mix of the paranormal, suspense, and mystery, with a hint of romance to come. The book's name is a nice play on the main character's name, while the main character's name is a nice play on her affinity with the crystal ball. Even though this story is complete, the ending sets us up for Crystal's next "psychic adventure".
A quick, entertaining read. I look forward to the next one.
I received this book in return for an honest review.
Full blog post: http://booksdirectonline.blogspot.com/2015/03/fire-in-frost-by-alicia-rades.html